Collection: Remote Work
Developers aren't moving towards remote work, they're already doing it. In today's collection, I provide resources you can use for starting remote work anywhere in the world.
Written by Jonathan "JD" Danylko • Last Updated: December 2nd, 2019 • General •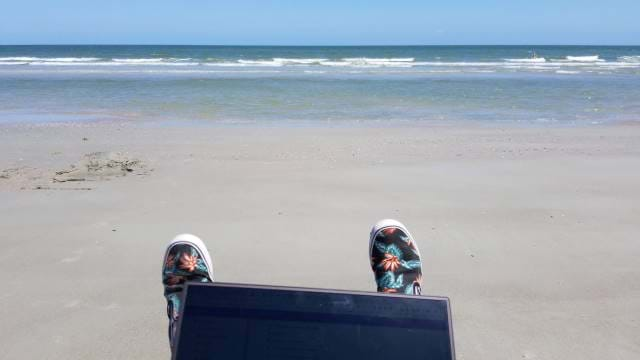 When I started using the Internet back in 1995, I never thought it would get this far. It's fueling economies and became an entire backbone for large industries.
Here's a little statistic that most tenured developers are having trouble swallowing:
The World Wide Web had their 30th anniversary in March of this year.
Boy, do I feel old!
Since the World Wide Web has evolved over the last 30 years, the number of opportunities for developers has exploded. There is more demand than supply.
Developer should understand that once you have a presence on the Internet, you are considered International! (yes, capital 'I')
Let me repeat that! ANYONE IN THE WORLD CAN HIRE YOU FOR AN OPPORTUNITY IF YOU HAVE THE SKILLS!
Some companies request you work onsite which is not bad, but still of limited thinking. I feel this is not how business will be conducted in the future.
I've mentioned before how to provide freelance services on the Internet where working remote is an awesome opportunity. So some readers wanted to know if this remote work is a fad and know why I felt remote work is the way to go.
The demographics associated with remote work is staggering. Even some developers I know are adamant about companies not letting them work from home.
For me, I'm starting to dig into remote opportunities using Freelancer.com (affiliate link) and Codementor.io (affiliate link) and it's turned out quite well so far. I'm working with a number of people across the world which is kind of intoxicating.
I'm hoping this collection will provide you with more insight to why the future of work is remote.
Demographics/Statistics
The Remote Work Report By Zapier
Zapier conducted a survey of 880 U.S knowledge workers to discover why people wanted to work remotely. The results are pretty interesting (The survey was also mentioned on ZDNet).
Buffer's State of Remote Work for 2019
I've been using Buffer for a while now and didn't even realize they published their results from 2,500 remote workers to produce their State of Remote Work in 2019. Great feedback from all remote workers.
Why Everyone Loves Remote Work
More survey results from 486 people where they found something really surprising.
Remote Work Statistics (from usefyi.com)
While the previous entry explained why everyone loves remote work, usefyi.com also has another section called Remote Work Statistics where they collect remote work statistics from various sources across the Internet and place them here for all to see.
Remote Work Statistics (from remotehub.io)
Along those same lines, RemoteHub has a section related to what companies are offering for remote positions, which companies support remote work, and the top benefits provided.
Resources for Finding Remote Work
Ditching the 9-5: How to Find Remote Work Opportunities
Chloe has some sound advice along with some websites to help find that ideal remote job.
RemoteOk.io
Open positions available for remote jobs in programming, design, marketing, and more.
The Remote Freelancer
A GitHub repository for all things working remotely along with services offering remote positions.
Moonlight.com
Haven't heard too much about this site, but does offer remote work for developers.
RemoteHabits.com
A remote-related website containing multiple segments for anyone interested in remote work. The sections include popular interviews, popular questions about remote work, popular tools for remote workers, and remote jobs area along with a blog.
Remotive.io
The best hand-picked remote jobs on the web.
RemoteHub.io
An attractive remote work engine for finding that particular industry to match your skills.
GetRemoteJob.xyz
A LARGE curated list of websites for finding a remote job.
FindRemote.io
A small listing engine for finding remote jobs. While small, you never know when you'll find your dream job.
TopTal
A great way to acquire Top Talent (hence, TopTal) using freelancers. The process includes an over-the-phone interview to confirm the talent is, as they say, in the top 3%.
Deskhiker
This highly-focused job site presents a number of industries (IT and non-IT jobs) looking for candidates for remote work. There is an employer login and search capabilities to find that one dream job as a remote worker.
News/Blogs About Remote Work
How to become a remote worker
Maarten Balliauw explains how he became a remote worker, how he works throughout the day, and also mentions Scott Hanselman and how he treats remote work.
Five Important Takeaways From Google's Two-Year Study of Remote Work
The full report (found here...and it was small) was summarized by Abdullahi Muhammed. Small as it was, there were some relevant topics that big businesses should pay attention to.
Miscellaneous
Conclusion
I tried to weed out older content to keep this list as fresh as possible. If you have a resource you want to contribute, please don't hesitate and send me an email with the resource and I'll add it.
Do you have any remote work statistics or remote sites you visit frequently? Post your comments below and let's discuss.
Other Collections