Collection: Coronavirus (COVID-19)
With the amount of information out there, what's the most critical links for this virus? This collection answers that question.
Written by Jonathan "JD" Danylko • Last Updated: March 16th, 2020 • General •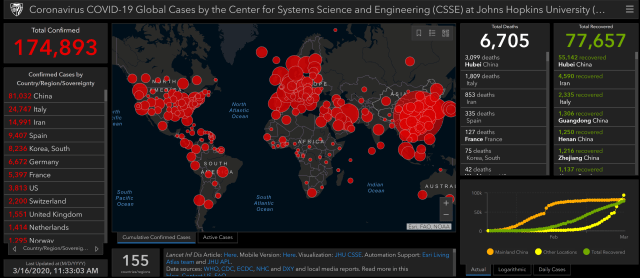 On Friday, I sent out issue #141 of DanylkoWeb Digest (back in the day) and included important Coronavirus links.
Then I thought "This is definitely bigger than the newsletter!" and decided to build this collection.
While it's a little late for my regular Monday post and not really technical in nature, I feel it's technical enough to show the community some websites to help people understand this issue and to show it's not just a "flu" and clearly show it's a pandemic. While the Coronavirus (COVID-19) does show flu-like symptoms, it's a little more than said symptoms.
I felt this was an important enough issue where it warranted a centralized collection of critical links for my readers.
If you have any other great links, please contact me so I can add them to the collection.
General
Masks Work. Really. We'll Show You How (Oct. 30, 2020)
For those who STILL aren't wearing masks, The New York Times gives us a visual tour of why masks truly, really, and ideally work as opposed to wearing nothing.


Five Ways to Follow the Coronavirus Outbreak for Any Metro Area in the U.S. (April 25, 2020)
The New York Times has a great interactive site on tracking your city and examining how good (or bad) it's doing. The entire page is based on the city you select in the textbox in the article. An absolutely awesome way to make an article specific to readers.


Developer Hackathons (April 3, 2020)
What better way to combat the Coronavirus than with technology? ProgrammableWeb.com has collected a list of all of the Hackathons available.


Coronavirus Detailed Projections (March 27, 2020)
Find out your state's detailed projections regarding the Coronavirus.


Help With Covid (March 27, 2020)
Looking to help #flattenthecurve? There are a number of postings requesting for help. Almost like a job posting board for the Coronavirus.


Find COVID Testing (March 27, 2020)
Let your browser access your location and it will display a map of the closest testing center.


Can't Stop ColumbUs (March 27, 2020)
Our very own tech community in Columbus, Ohio is banding together to fight the Coronavirus.


Coronavirus Hackathon (March 27, 2020)
World Health Organization (WHO) and Tech companies are organizing a hackathon for 6 potential fields of focus: Health, Vulnerable Populations, Businesses, Community, Education, and Entertainment.


Weather.com's Coronavirus map (March 25, 2020)
Track the coronavirus spread in US counties


Ohio Issues "Stay at Home" Order (March 22, 2020)


Coronavirus Disease 2019 (recommended) (March 16, 2020) - Center for Disease Control and Prevention (CDC)
A great place to start if you want to know the symptoms and instructions on what to do if you are sick with the virus.


Infection 2020 (March 16, 2020)
Want to find out if you are in an infected area? Let the browser access your location and it'll let you know.


Coronavirus Tech Handbook (March 16, 2020)


A movement to stop COVID-19 pandemic (#StayTheF**kHome) (March 16, 2020)


Coronavirus confirmed as pandemic by World Health Organization (March 16, 2020) -

(for those still in denial)


Flatten the Curve (March 16, 2020)
More guidance to prevent the spread of the Coronavirus


Notes from a UCSF Expert Panel on the Coronavirus (March 16, 2020)
A GREAT single document for the current state of the world in regards to the Coronavirus and what to expect in the next year (yes, year). Thank you,

@alexismadrigal


The Corona Virus Simulator (March 16, 2020)
Kudos to Harry Stevens (@Harry_Stevens) for reporting on this Coronavirus Simulator. This was definitely eye-opening and gives everyone an idea of what to expect and how to battle it by isolating or simply quarantine yourself with animations.


Ohio Department of Health Coronavirus Page (March 16, 2020)

Coronavirus: Fact vs. Fiction (March 16, 2020)
3min. video on YouTube.com
Data
Tools
Mayo Clinic: U.S. Coronavirus Map for Tracking the Trends
The New York Times has another great tool on tracking the vaccinations. (August 14, 2021)

Tracking COVID-19 Vaccinations Around The World
The New York Times has another great tool on tracking the vaccinations. (March 13, 2021)


COVID-19 Event Risk Assessment Planning Tool (December 22, 2020)
Georgia Tech created a great tool on the impact of events occurring during this pandemic.


COVID-19 Hotspots in the US (Harvard Global Health Institute) (July 13, 2020)
The Harvard Global Health Institute has partnered with other organizations to provide a map showing where the hardest-hit parts of the country.


Workforce Confidence Index (April 14, 2020)
LinkedIn.com created a new way of gauging whether employees are confident enough to go back to work or not.


Epidemic Calculator (March 27, 2020)
An absolutely detailed forecasting tool for determining an epidemic.


Apple's COVID-19 Screening Tool (March 27, 2020)
Apple's approach to determining whether you have the Coronavirus and what is the next course of action.


COVID World Map Progression (March 27, 2020)
World Map showing the progression of the Coronavirus.


John Hopkins University Real-time Dashboard for the Coronavirus (worldwide) (March 16, 2020)
I've been watching this since it was merely an 11,000 count and I've mentioned it a couple times in the newsletter.
The links above were accumulated over the past two months and as recent as this morning (2020-Mar-27). I've watched as this virus spread from 11,000 to (at the time of writing this) 174,000 so I refer to these almost on a daily basis (like the John Hopkins Coronavirus Dashboard).
If you found this valuable, please share this page on all the socials. I'll be accumulating more as more information becomes available.
If you are currently working from home, I would also recommend Collection: Remote Work to get your "branch office" setup.
Other Collections
Collection: Coronavirus (COVID-19)