Collection: Codemash 2020 Recap
Missed Codemash this year? This collection will make you feel like you were there with reviews and coverage of the event.
Written by Jonathan "JD" Danylko • Last Updated: February 7th, 2020 • Reviews •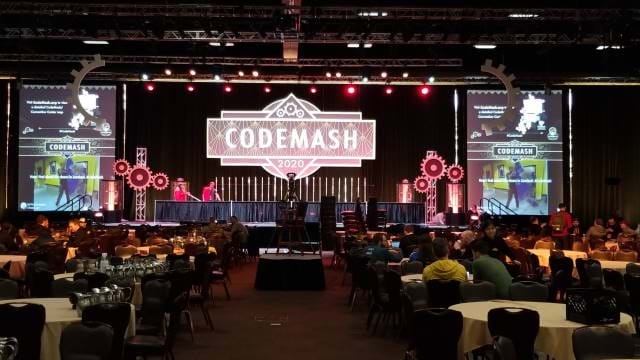 Every year, Codemash consistently outperforms their previous year by gathering the best speakers, the trendiest topics, the most attendees, and the most fun to be had in a water-themed hotel.
But what did everyone think about it?
There are so many disparate posts about the conference spread across the web, heck, I didn't even know some existed!
Since I haven't had a collection for a while, I decided to make a new collection focusing on Codemash 2020 post-conference articles.
The current collection consists of the following.
Codemash v2.0.2.0
My coverage of the conference since I LOVE going every year.


Dan Vega's Codemash Recap
His session on Vue 3.0: Smaller, Faster, and Stronger was a big hit (I thought) and gave his review of how much fun he had during Codemash.


Codemash 2020: What I took away from the event - Jeff Breece
My fellow co-worker, Jeff Breece, has a great post of everything he experienced as well, the takeaways from the event, and hilighted some of his favorite sessions.


Codemash 2020 Recap - Andrew Hinkle
His recap is one of the longest posts on this list and he gives feedback about all presenters.


Codemash 2020 Recap and Cloud Design Patterns - Steve Smith
Steve Smith looks like he made it through another Codemash this year. According to him, he's been to every one of them except two. So he is definitely a veteran when it comes to Codemash attendees/speakers. And besides, he does present some great sessions.


From Flannel to Lace's Codemash 2020 Logo Design
These Codemash logo's don't just appear out of nowhere. There are people behind this logo and they work hard to make it look awesome! This year's Codemash logo is no exception. ZAGGStudios created this amazing logo and Missy shares her design process for the logo. BTW, great post Missy, and keep it up!


Practicing (and Nailing) My First Conference Talk - Matt Eland
For first-time presenters, Matt explains his Codemash experience, how he prepared his session (titled "Technical Debt Must Die"), and all of the feelings that went along with it.


Codemash 2020 Experience - Jem Kegawa
Jem Kegawa put together a great video of what to expect when going to Codemash and just how much fun it can be.
Your post not on this list? Let's fix that.
If you went to Codemash this year and wrote a blog post covering the conference, tweet or email me the URL and I'll add it to the list so others can find out what a great time you had.
I look forward to all of your posts.
UPDATES:
Enjoy!
Other Collections