Top 50 Technology Christmas Gift Ideas for 2015 (with money-saving tips)
Finding that perfect gift for family members is always a tough nut to crack every year. Since I'm always on the lookout for the latest gadgets, here are my picks of technology gifts for 2015.
Written by Jonathan Danylko • Last Updated: November 18th, 2015 • Gadgets •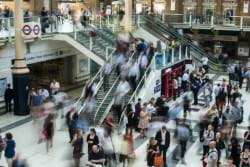 Disclosure:
I get commissions for purchases made through links in this post.
Ahh, it's that time of year again when we all stress out about what to buy for our family members before the holiday season is upon us...
...and how do we get the best bang for our buck?
Last year, I posted a pre-Black Friday post about 50 Awesome Christmas Gift Ideas For Your Technology Family and it seemed to be a big hit. So why not continue letting everyone know what this year's latest technology trends are and find out will be under the Christmas tree?
How To Find Deals
Since we are less than two weeks away from Black Friday and Cyber Monday, I thought I might let you know about other money-saving tips for these unofficial holidays as well.
Personally, I would recommend you head to the Black Friday web sites. The following sites I would recommend are:
In my opinion, these are the key players when it comes to Black Friday. Heck, I even discussed them back in 2006...and they're still around!
Each one of these have evolved over the years and now they even have apps for the iOS and Android.
Download these apps, mark off your checklist the stores you need to hit on Black Friday, and...well...godspeed.
Why Get Trampled?
Personally, I will be waiting for Cyber Monday and shop for my items online instead of getting physical with a large person over a frickin' TV. ;-)
To assist with my shopping online, there is an extension that I use called Honey (affiliate link).
Honey is a Google Chrome extension that when you are at the online checkout page and it detects a promo code edit box on the page, it will notify you that there are X number of promo codes it can run through to save you some money.
Some of the codes work and some of them don't. It's kind of like spinning a wheel to find out if you've hit the jackpot or not.
I feel the promo codes for some of these web sites will disappear faster than the in-laws attacking the Thanksgiving turkey.
There are other shopping extensions for Chrome so I would browse through the shopping section (https://chrome.google.com/webstore/category/ext/12-shopping) and see what you can find. If you find an outstanding extension that assists with your Black Friday or Cyber Monday shopping, by all means, post your comment below.
The List
Last year, my technology Christmas list took me 2 weeks to prepare and build for everyone. This year, it also took a while to create this list...close to two weeks again.
So please post comments below to let me know how this list compared to last year or what I missed.
I also want to make everyone aware that this list contains affiliate links. An affiliate link is where you click on a link and I receive some small commission for the link on my site.
So without further ado, I present to you my 50 technology Christmas gift ideas for every member of the family (and then some).
Thanks and enjoy!
One last thing: before you dig in, there's even more christmas gift ideas from past (and recent) years over at our Holiday Gift Guide.
Christmas Gifts For Women
I know what you're thinking...for guys, the pink is off-putting, but for the ladies, it's absolutely perfect. Just think of what you gain from this two pack.

The two drives are ultra-fast with a transfer speed of 80 MB/s. Yeah, I said 80MB a second. You receive a 32GB AND 64GB and the 32GB is an OTG (on-the-go) drive that allows you to plug in, transfer or stream content to & from your Android device...tablet or phone. Cool, huh?

I would consider these stocking stuffers for the ladies.

One of the items that seems to be on everyone's Christmas list this year is the latest Apple iPhone.

This year's upgrades include a 12-megapixel camera iSight, 4K video, keep everything up to date with the improved iCloud, and the 3D Touch which provides a better interface for your multi-touch.

Even though this is almost the price of a laptop, there are people who stand in line for Apple products.

I'd rather shop from the warmth of my own home instead of waiting in line.

Ok, if she doesn't want the iPhone, maybe she would like the Apple Watch (or even both).

I thought this was cool. It has a speaker and microphone, Wi-Fi (802.11b/g/n 2.4GHz), and bluetooth 4.0 with up to 18 hours of battery life.

One nice feature they added was a heart rate sensor, accelerometer and gyroscope. So if you were thinking about getting her a FitBit (also recommended at the bottom as a great gift), you may want to bypass the FitBit.

It may save your marriage as well. ;-)
Christmas Gifts For Men
Christmas Gifts For The Gamer
Christmas Gifts For Designers/Developers
If you haven't purchased an SSD (Solid State Drive) yet, you are wasting your life away with "spinning rust." An SSD drive is like a USB thumb drive, only it can hold a LOT more than just 64GB.

This brings me to my next pick of an internal SSD drive. The Samsung EVO 500GB Internal SSD Drive is a great replacement for what you currently have in your laptop.

It's easy to replace a hard drive in a laptop. Just back up your existing data on your computer and slide the new drive right in. I recently replaced someone's hard drive with an SSD drive and they think they've upgraded their computer to a faster model.

You will definitely notice a performance increase when it's installed.

So yes, you absolutely have to get one...NOW!

Wacom has always been famous for their Bamboo line of graphics tablets. Now, they've taken it down a notch to paper.

The latest gadget is a cover, pocket, or sleeve that captures handwritten notes on any paper and with a push of a button, your handwritten content is saved digitally for organizing, editing or sharing.

It works seamlessly with cloud-based services, including Evernote or Dropbox and works with a huge number of devices including tablets and smartphones.

Definitely allows you to become creative or write down ideas while being mobile.

Now, I know this may come of a surprise to many, but developers do drink. Shocked, I know.

Just...not on the job.

This flask holds six ounces of your favorite liquor and is made of stainless steel.

While it can be a great Christmas gift, sometimes you just need to think of yourself. ;-)
Christmas Gifts For Parents
Christmas Gifts For The Traveler
Of course, you always have to have enough juice while on the road. It allows for simultaneous charging for 2 devices. The four LED lights notify you how much power you have left.

This little beauty works for all mobile products including Samsung Galaxy, Nokia, Android, also for iPhone 6, 6 Plus, 5, 5s, 5c & Tablets.

While I was debating as to whether to include this in the list, it's a pretty interesting gadget. At first, I thought why in the heck would someone want storage on a razor?

The retractable USB connector is not meant for storage, but for power. The rechargeable razor can plug into any USB port and charge itself while you are working on your laptop.

The BlueDriver Scan Tool is meant to plug into your car (provided it has a standard OBDII port) and perform a self-diagnosis using your Apple or Android device. The app provides you details as to why your car stopped all of the sudden. It can also read and clear trouble codes when the engine light comes on.

Perfect for a non-mechanic (but techie) like me.
Christmas Gifts For CEOs/Startup Types
This little powerhouse of a computer is a couple steps higher than a Raspberry Pi. As a matter of fact, it's as powerful as a desktop and as small as a smartphone.

The only thing missing is a keyboard and an HDMI-compatible monitor. Oh, and did I mention that it runs on Windows 10?

Absolutely awesome!

One of the best items I've purchased in the past 3 years was the Coin. The Coin (as I mentioned before in a post) is a small credit card device that holds up to eight cards in one card.

If you are one who travels a lot, this device makes your life a lot easier because it consolidates all of your cards into one card.

Since I purchased my Coin, I have received a number of comments from "What is that?" to "That is the coolest thing I've ever seen!"

You can only have eight cards at a time on the Coin, but your smartphone can contain unlimited cards to download to the Coin.

It's definitely a space-saver for your wallet.

I've met a number of business owners who have a ton of USB devices and complain that they don't have enough USB ports on their laptop to charge every single one of their devices.

Well, now they can stop complaining.

While there are more "aggressive" USB extenders, this one adds 7 additional USB ports.

Definitely a great extender for your devices.
Christmas Gifts For Entrepreneurs
It doesn't matter where you're at, there are times when you are isolated in an airport and no other outlets are available. How do you power your phone that's running out of juice?

My one friend bought one of these and I'm planning on getting one as well. They are waterproof, shock proof, and dust resistant.

If you get caught with no power on a boat (or on a deserted island), you can easily charge any of your devices with this solar charger.

Every entrepreneur that I've run into always does presentations or sales pitches when they are asked what they do. For you entrepreneurs out there who are always "at the ready" to dive right into a presentation, here is a laser pointer that attaches onto your iPhone.

You can also control your presentation wirelessly through the attachment.

I've had my laminator for the last 5 years and it has been indispensable for reports, posters, and flyers.

This one from Scotch has a 5 minute warm-up time, has a Jam Prevention Technology where it automatically prevents misfed items, and laminates at speed of 15 in/min.

I also like this feature. It has an Auto shutoff after 1 hour of inactivity that helps conserve energy (and electricity). ;-)
Christmas Gifts For Students
Christmas Gifts For Photographers
The GoPro has made quite a name for itself in the last 5 years.

It has become the de-facto standard for any kind of film that requires a small camera to capture the action.

It was even used in the movie "The Martian" and has been used by most any stunt man who drinks Red Bull.

I'll let the GoPro name brand speak for itself.

No matter what type of photographer you have in the family, they will always need more SD cards (micro or regular) for their images.

You can never go wrong with an SD card. Heck, buy a couple of them for their stocking.

For those photographers always on the go and want to get the most from their iPhone 6, the wide angle and telephoto lens are must-haves.

It features an interchangeable 165 wide angle and a 3x telephoto lens for dynamic shots and also includes an integrated mount for easy attachment to tripods and selfie sticks.

Just in case you want those wide angle selfies. :-p
Christmas Gifts For Kids
Christmas Gifts For Everyone
Christmas Gifts For Chefs
I know what you're thinking...How many family members would benefit from this? (kidding).

This is not much of a gadget, but just the novelty of having a waffle in the shape of a keyboard for breakfast is definitely a way to start your day even if it isn't quite in front of the computer. ;-)

Getting breakfast early in the morning is something that takes a little bit of time unless you know of some shortcuts.

This I would consider to be one of those shortcuts. The West Bend Egg and Muffin Toaster has a four-slice toaster with an option to defrost frozen breads, bagels, or croissants.

There is also a place on the side to cooks eggs and a tray to lay over top to warm up meat.

Slick little gadget for the family when needs something quick to eat before headiing out the door every morning.

Well, this was an interesting item to find for my Christmas list.

It's a low oil fryer and can hold up to 3.3 lbs. of food. Not only is it used for frying, but you can use it for other cooking functions like baking and mixing.

While I haven't used this before, it looks like something I would be interested in getting to make my own french fries. ;-)
Wearable Christmas Gift Ideas
Conclusion
This year has so many innovative ideas and gadgets that it was hard to narrow down the best gadgets for each family member. As I mentioned in each of my descriptions, I wanted to think like a <title> and determine what that person would be interested in.
For example, a chef in the kitchen. What would they want that was "gadgety?" Something that would save them time? Make cooking fun?
It was tough.
I hope this sparked some gift ideas for your family members this Christmas.
How was the list? Did you find something that a family member would want this Christmas? Post your comments below.