How To Use Technology For Christmas With Digsby
If you can't be with your family this holiday, use technology to be closer to them.
Last Updated: December 25th, 2009 • Gadgets •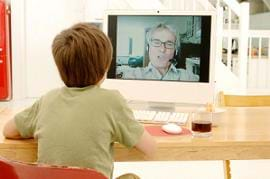 This Christmas, my parents are in Orlando, FL and I couldn't be with them. So I improvised.
Since my mother and father have their own laptop, one of their laptops has a webcam (Acer Aspire Netbook as previously mentioned in a post).
We shipped the presents down to Florida about two weeks ago and we just recently received their gifts in the mail.
So on Christmas Eve, all of us decided to have a video conference and "exchange presents."
Software Needed
Digsby is one of the coolest chat software apps around. Most of the Lifehacker community voted Digsby as one of the best Internet Messengers on the Internet. Digsby has two benefits:
If you are on multiple Instant Messenger clients (like Google Talk, Yahoo!, or MSN Messenger), Digsby takes all of your accounts and places them into one central interface. It also includes the way to access and view your Facebook, MySpace, and email accounts.
It has a VERY simple way of creating a webcam conversation.
When my parents visited earlier this year, I installed Digsby on both laptops. Now...my parents aren't tech-savvy at all, so I needed an easy application for them to use without me being there.
So if my mother and father can do this, then I'm pretty sure anyone would be able to do this.
Here's what you need:
Two desktop/laptop computers
A webcam on each of the computers
Digsby installed on each computer
How do I set this up?
Download Digsby and setup your Digsby account

If you've already signed up with another IM account, Digsby has a good majority of them.

If you don't have an account, I would recommend signing up with GTalk (Google's IM).

Add the IM, Email, and social accounts to Digsby.


Confirm your contact list.

When your accounts are added, you should see your contact list appear. Double-click a user's name to start a chat.

Start the video chat.

At the top of the chat window, you'll notice a Video button. Click the Video button to request a video chat with that user.

Adjust your settings.

Once you open the video chat window (TokBox), there will be two buttons at the top of the window. A Refresh button and a Settings button.
Some additional notes when setting this up:
When testing everything, you should have at least a voice coming through on the other end. Ask if they see you or hear you. If not, they may need to click the Settings button and walk through the wizard.
As funny as this sounds, just type to them and walk them through the setup until things are working. Some people forget that you have a chat window open.
After the third time of talking to my parents through Digsby, they definitely have it down. All I do is let them know of a time that we'll chat and they are online ready to chat...even with a video window already open.
After everything is setup, I placed my laptop in the family room and connected wirelessly to the Internet. My parents logged on and my wife and son saw them and we started to open presents. My mother even commented on the beautifully decorated Christmas tree in the background.
Ahhh....technology. It was definitely great to see my parents on Christmas Eve.
I hope everyone has a great Christmas with your family. If they aren't close, this is definitely an alternative to be with them.