7 Reasons Why Columbus, Ohio Is Considered To Be The Midwest Tech Mecca
Columbus, Ohio is considered to be one of the best cities to live in America. Today, I give numerous reasons why it's one of the best cities for a technology career.
Last Updated: May 27th, 2015 • Opinion •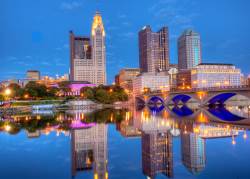 About 5 years ago, I was picking up some food downtown and I overheard some college kids talking about "how they couldn't wait to get out of this city when they graduated."
A little over a month ago, I was in a restaurant and heard another group of high schools kids mention that as soon as they graduate, "they are out of this city for good."
Wow!
Now, I know it's just my personal opinion of this city, but when I moved my family down to Columbus from Erie, PA in 1999, it was like moving from Powell to New York City.
There is always something to do in this city.
There is always something happening.
Not to mention that Columbus, Ohio is the city for work in a technology industry in the midwest.
I know there are some doubters out there as to what Columbus has to offer, but based on everything I've experienced and read, this is probably the place where you want to grow a technology career.
What are my reasons?
Let's get started to show off the capital of Ohio.
Conclusion
Columbus is quite a city. It's not like a New York City, but it definitely provides a number of new and unique experiences if you give it a chance.
The technology and opportunities of Columbus are vast and they only seem to be expanding further.
I can't wait to see what's next for Columbus in the coming years.
Got a favorite location in Columbus? Did I miss a networking event? Post it in the comments below.