Review: RadMo
Recently, I went on a road trip and used my RadMo. Here's my review of this ingenious travel accessory.
Last Updated: May 11th, 2015 • Gadgets •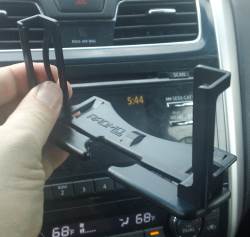 One thing I can't stand with GPSes is the amount of space required for them. For example, I see a number of people driving down the road with the adhesive on their windshield and this octopus arm extending down almost in front of them just so that they know where they're going.
Hardly the accessory I want in front of me while driving.
If you are going on a vacation or long roadtrip and you've never been to that destination before, I couldn't agree more that you need a handy GPS for your travels.
I just have an issue with obstructive, in-your-face accessories that do more harm than good.
When I first heard about RadMo on Indiegogo, I figured I'd give it a try. I paid $20 for the RadMo Classic, waited, and eventually, they shipped it to my house.
What is it?
Basically, the RadMo is a car mount for your phone, phones (yes, plural) or tablet.
According to the Indiegogo site,
Radmo is an ultra-durable (last for years), mount for mobile, mini-tablet and GPS devices that fits right into your car's CD player, effortlessly.
When I received it, I opened the box and noticed it was made of sturdy, durable plastic. They also have a Classic-Coated Aluminum and a Nylon base version.
The slider is adjustable by using the two hand-tightening screws on each side.
Once you find the correct size for your device, tighten the screws and you're ready to go.
Installation
The best part about this is that there are no attachments necessary for the RadMo.
All you need is a CD Player in your car.
Yes, a CD Player. I know what you're thinking. Don't worry, the plastic is solid enough to hold your device.
Even if there is a CD in the player, it's curved enough to move around it and still hold your device securely in place.
After my RadMo was adjusted, I was able to take my phone and start using it immediately.
"Test-Driving" the RadMo
While driving, I always use Waze (Review) for my GPS needs. After loading up Waze and driving for a bit, I was surprised that the RadMo didn't bounce around or jiggle in the least. It was definitely sturdy enough to hold my phone firmly in place.
Not only is it an "out-of-the-way" accessory, but it is extremely simple to just remove and hide it in your middle compartment between the seats when it's not in use. It's small enough to do that.
I have only tried the phone version of the RadMo. I have not tried the tablet version (If anyone has used the tablet version, post a comment below).
One Small Complication
There was one issue with the RadMo.
I have a Google Nexus 4 (yes, still) and the charger is on the bottom of the phone. While driving for a long period of time, I usually grab a phone charger and charge my phone while driving.
The problem occurs when you slide the phone into the RadMo in landscape mode instead of portrait.
My charging cable was blocking my phone from sliding into the RadMo. It would slide in half of the way down and stop because of the cable.
Rotating your phone to portrait fixed the issue, but was an inconvenience. I like my GPS in landscape mode.
Conclusion
There really isn't too much left to discuss about this ingenious travel accessory for your phone.
The RadMo is simple, small, and a big help when you need to have your phone available without the need of handling it while driving.
It also makes your car a little cleaner since you don't need to wipe off the sticker marks when you sell your car.
I would definitely recommend the RadMo to anyone who constantly travels by car.
Jonathan Danylko
4
The RadMo travel accessory for your phone (or tablet) is an absolute necessity, doesn't require any installation, and provides a sturdy support for your phone while driving.