5 Technology Predictions For 2010
Since I'm starting to feel the pulse of technology once more, I might as well try my hand at predictions again.
Last Updated: December 30th, 2009 • General •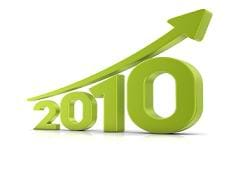 As we move closer to closing out the decade (not yet..one more year), technology is now a staple in our lives. No matter where you go, you are attached to the Internet in one way or another.
Based on what I'm seeing from 2009, I can only predict as to what 2010 will hold for the technology industry. Between you and me, it's going to explode. Here are some of the predictions I have for 2010.
(Unfortunately, it seems last year snuck up on me a little too quick to do any kind of predictions).
Here is my list from previous years:
2010 Predictions
With that said, let's get on with this year's predictions and I promise, I'll be quick about it.
Even though the Kindle from Amazon is king in the eReader race, Barnes and Noble will take the reigns and lead the pack with their Nook.

The eReader battle will continue with reinforcements from other manufacturers. Even ArsTechnica recently introduced three other eReader competitors.

With Barnes & Noble not having the Nook readily available for everyone, this event should sound vaguely familiar. When the Kindle was introduced in 2007, it was immediately sold out. Amazon couldn't keep enough of them in supply. Five months later, they were back in stock. Hmmm...yes...sounds vaguely familiar.

Even though Barnes & Noble is a little late to the game (not as late as Borders), they still have two major advantages: one, a strong brand name behind them (What store do you think of when you think books?); and two, a brick-and-mortar store where someone can view the latest news and best sellers, grab a cup of coffee, or view a sample of the nook as well.

Therefore, I feel the nook may overtake the Kindle.

Windows 7 will become the de facto standard just like Windows XP currently is.

Windows 7 will be the version that everyone flocks to and everyone has been holding out for it.

Even though Microsoft keeps leap-frogging Windows versions (good/bad/good/bad), Windows 7 is where Microsoft lands on their feet this time since everyone couldn't stand Vista.

In comparing previous versions of Windows, Microsoft will see a surge in the market with their new OS. Microsoft will be back in the game (To be honest, I think they already are).

The economy will be back (as well as some technology jobs).

Looking back over the latter part of the year, it seems the economy was starting to bounce back near the third quarter.

Now, looking over the crest of 2010, I'm noticing more technology jobs are becoming available in the market.

I would even predict that in 2010 some IPO's would appear.

Cloud Computing will continue to grow In 2010.

Cloud computing will grow even bigger since it was introduced this year. More services and technologies will become available an