5 Exceptional Ways to Enhance Your Business
Today's business owner needs a certain level of technology savvy. In this post, I discuss five ways to set your business apart from your competition.
Last Updated: March 21st, 2016 • General •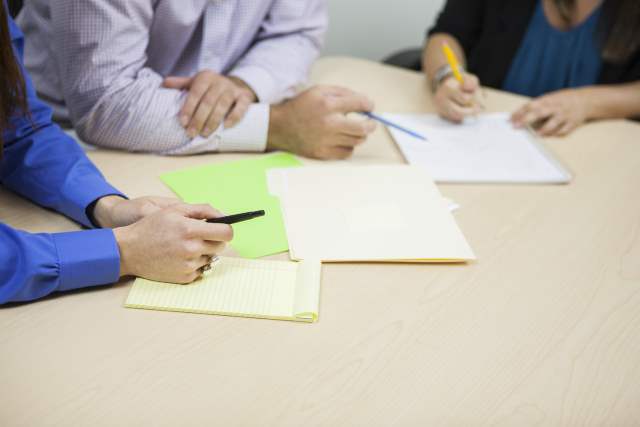 Over the weekend, I recently ran into a friend of mine who is a business owner. He's not too techno-savvy, but he gave me his business card.
When I looked at it, my first thought that stood out to me was the email address. The domain name was yahoo.com. This was unsettling to me and one of the various concerns I had.
When you build your business, you want to convey a sense of stability, trust, and recognition with your brand. A majority of businesses miss out on the branding aspect.
Today, to help out business owners (and my good friend), I want to cover 5 actions any business owner can take to make their business stand out from the rest of the pack and look like a leader in their industry.
1. Brand Yourself
You can't open a bank and call it Bob's Bank and expect to have anyone deposit money to become successful.
I don't know about you, but Bob wouldn't get my business.
Your company should portray a specific image. A first impression.
Something that sticks with that person about your company whether it's your service, dependability, or product.
This is branding.
What sticks with each client (whatever that "thing" is) throughout the company-customer relationship should be used over and over again. It should be the visual glue that holds your company together that will always be there.
Branding can include:
Creating an Image or Logo (Mercedes-Benz, Pepsi, Dell, etc.) using services like DesignContest, 99Designs, or Fiverr.
A Motto or Phrase ("Where's the Beef?", "Just do it", "I'm lovin' it")
A specific item you carry with you or piece of clothing (Levi's, Vans, specific handouts to clients on every meeting, etc.)
Once you identify your brand, your brand will become the mega-phone on the mountain, not you.
Takeaway: You can approach this one of two ways: Ask your existing clients why they selected your business over someone else and use that as a start for identifying your brand. Option 2 is find something common that clients are used to seeing every time you meet them. Your timeliness? Always cheerful? Always carrying a tool of some sort? Use that for your branding and weave that into every aspect of your business so when someone sees that, they immediately think of your business.
2. Buy a [Virtual] Property
As mentioned above, my friend has the domain name from Yahoo.com.
Now, he either works there part-time or he's using a quick Yahoo hosting account just to setup an email account for a business.
The email address might as well be called bobsbank@yahoo.com.
See what I mean?
It doesn't project a professional image.
You need an Internet domain.
In short, a domain on the Internet is what everyone is used to seeing when they browse the web. In the Url http://www.danylkoweb.com, danylkoweb.com is the domain name. To purchase a domain name, you would go to a hosting provider, like GoDaddy, HostGator, or 1and1 to purchase a domain name.
Of course, the hard part is making sure it's available.

When you buy a domain, it is the equivalent of buying "digital land." You own that name and you pay maybe $15 a year for that domain.

Along with the domain, this will also give you an email box specific to your domain name you purchased. If you bought the domain name "joescontracting.com", you would receive an email box with as many as 5-10 email accounts you could setup (admin@joescontracting.com, fred@joescontracting.com, bryan@joescontracting.com, etc).
Takeaway: There are tons of places to buy a domain name. Find a reputable domain name provider and purchase your land. You're going to need it later. ;-)
3. Start "Building Your House"
Now that you have your domain, you need a base of operations on the Internet.
You need a website.
I know this may be "preaching to the choir," but I'm thinking some businesses choose to ignore this advice.
If you are a business and you don't have a website, you are in a world of hurt. I can't stress this enough. A website is critical for your business.
Why?
Here are a couple of reasons off the top-of-my-head why you need to own one.
If you don't have one, you won't be considered professional and your business could potentially be marked as a business that's not keeping up with the times.
Consider your website as a personal salesman who never stops working. It is constantly working for you 24/7 since the Internet NEVER goes down!
You can showcase your work (before/after pictures, past projects, etc.)
You can receive emails from prospects at any time of the day or night.
You can build a following (community) by releasing tutorials, how-tos, or blog posts if you are ambitious enough.
At the top of the business card, they had a list of services they offered. It would be nice to see those finished services in a photo carousel instead of on a phone. ;-)
There are a ton of benefits to having a website and these are just six.
Remember, this is your digital home base or digital base of operations. It's your digital representation of your business.
Takeaway: Wherever you bought your domain, buy a web hosting package. This is the equivalent of starting to "build your house." All you need now is a "digital carpenter" (web developer) to start building it.
4. Take Stock in Your Stock
As mentioned above, when I received the business card, it didn't stand out to me. The stock of card was even a little flimsy.
In a past post I wrote called 5 Solid Products and Services Every Successful Freelancer Needs, I talk about MOO cards and was told numerous times that people were impressed with the stock of the card.
While the phone didn't start ringing off the hook, I received a lot of thank you's and a couple of referrals from people when I mentioned MOO cards.
It just meant that I wasn't shy about telling people where I got my cards.
I was a person offering value to another person and, funny enough, they remember that interaction.
Check out the latest deals with MOO Cards in our new Dev Deals section.
Takeaway: Invest in your company first, then invest in yourself. Buy quality products that reflect the quality you provide. People will notice that quality and associate it to you and your business.
5. Become Social
There are a number of ways to spread the word about your business. What better way than to become social?
You always want to be show off and talk about the work you've done in the past. Social networks is a great way to show what your company can do.
Every single social network out there has a purpose for a company. For example,
Google+/Facebook - Create a Fan Page/Company Page to build a community of followers.
Twitter - Create a handle specific to your company so you can converse with people.
Pinterest/Instagram - Show off a new product, before/after pictures, or at-the-job pictures.
LinkedIn - Create a company page/Group page for people to ask questions about your services and solutions to problems.
Some social platforms may be good for your brand, so pick the social networks carefully.
Regarding your brand, you want to be in front of everyone who accesses a web page on the Internet pertaining to your specific topic.
Also, Gary Vaynerchuk asked two things when using Social Networks:
Find out where is your audience?
How do you talk to them there?
It will accelerate your business relationships with others when you answer those two questions, but understand that every social platform is different.
Takeaway: Show that you have a human side and interact with others on social networks. Post daily or weekly messages to let your followers know that you're still alive and out there and that business is really booming.
Conclusion
Today, I wanted to provide a post that helped some of my "technology-challenged" business friends. Embrace technology by learning more about it, don't run from it.
I hate to break it to you, my friends, but we are all geeks and nerds at this point if we are all using technology. ;-)
Did I miss a business point? Did this help some readers who don't understand some Internet concepts? Post your comments below.