What books are in your library?
Do you have a favorite next to your monitor while you program?
Written by Jonathan "JD" Danylko • Last Updated: January 31st, 2007 • Develop •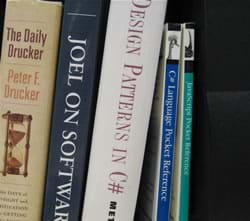 Disclosure:
I get commissions for purchases made through links in this post.
Every developer has at least one reference book handy standing up next to their monitor or within hands reach.
As you can see, the books above I have are as follows: