Using the Rocketbook as a Bullet Journal
A while ago, I bought a RocketBook on IndieGoGo and received it three months ago. Today, I review the RocketBook and cover a simple idea on using it to its full potential.
Last Updated: March 7th, 2016 • Reviews •
I always like a new technology, digging into it for the first time like a kid on Christmas.
Last year around this time, I mentioned a number of crowdfunded projects that I supported on IndieGoGo including the RocketBook.
The RocketBook is simply a cloud-ready, microwaveable notebook. It's relatively easy to use and works wonders.
I received my RocketBook three months ago and thought it would be a great time to do a review of it.
Overview
The RocketBook Wave notebook comes in two flavors: Standard and Executive.
Standard Version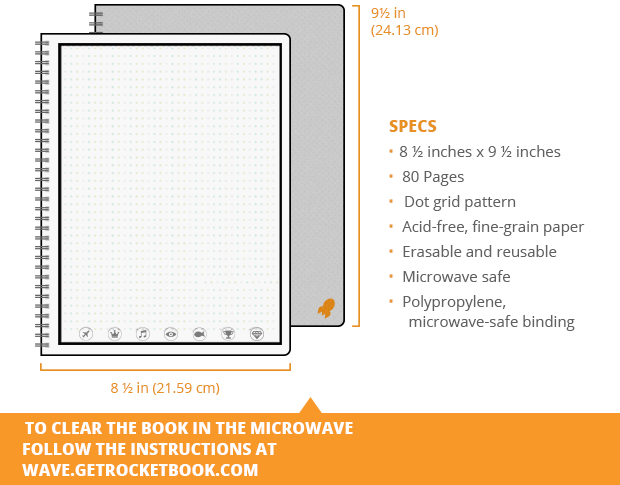 Executive Version

The way the Rocketbook works is that you have 7 icons at the bottom of each page. You can relate each icon to send your note to a digital filing application.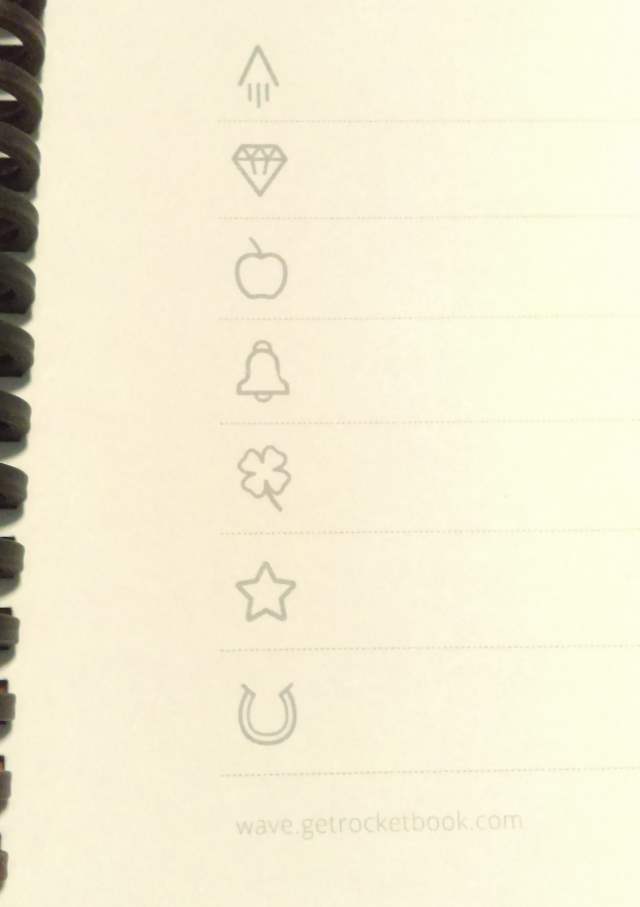 Most of my icons are set to Evernote and Google Drive, but you can also add Microsoft OneNote, DropBox, Google Docs, or your own email address if you want.
When you write your notes, you can color in the icon. The icon tells your Rocketbook app where to send the note when it's digitally scanned into your phone or tablet. When your note is scanned, it automatically files it away to your application of choice.
This is definitely a great way to store your notes digitally "in the cloud."
Want a new RocketBook? Throw it in the Micro!
The best part of this is you can have a clean notebook anytime you want.
Yep, throw it in the microwave. Pretty cool!
However, you HAVE to use Pilot FriXion pens. If you use other pens, it won't come out.
NOTE: Also, before you place the RocketBook in the microwave, confirm that your notes are saved before you erase everything.
Place a cup of water in the microwave on top of your Rocketbook and minutes later, you have a brand new clean notebook (Make sure you read the directions on the site).
It is pretty amazing. I've done it twice so far and the FriXion ink disappears, wiping away all traces of ink in the RocketBook.
An Analog System in a Digital World
Taking notes can be painful, but once I receive my RocketBook, I started looking for better ways to take notes (Hey! It's been a while since I've been in school, so I needed a refresher).
After searching for 10 minutes, I came across a technique called the Bullet Journal.
The video is only four minutes and describes an easy way to organize information and take notes as needed.
If you use this particular technique with the RocketBook and once your book is full, you can start scanning and recording the pages into your favorite digital filing system for later use.
I've been using the Bullet Journal technique for two months and I'm growing accustomed to it. As the video says, it doesn't get in the way of you taking notes.
Once you understand how to do it, it becomes very easy to organize everything.
Conclusion
The Rocketbook combines an easy integration with the cloud and a simple analog-to-digital means of storing your documents. Using the Bullet Journal technique compliments the RocketBook by providing better notetaking skills while writing your notes.
At the end of the day, use your tablet or phone to record your pages for future reference.
If you are interested in purchasing a Rocketbook, I was able to get a special deal of 3-pack of Rocketbooks FREE when you go to their site using the link below:
Update (2016-06-18): Lately, it seems the bullet journal method is catching on based on a post by qz.com.
Have you purchased one yet? Post your comments below about your own Rocketbook experience.