Review: FotoJet.com
Looking for a way to make your images stand out? Today, I review FotoJet.com to view their offerings in creating innovative images.
Last Updated: November 6th, 2017 • Reviews •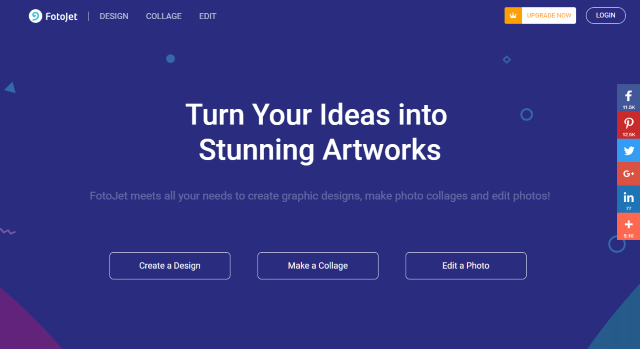 As a development blogger, I'm always looking for a nice graphic to make my blog posts stand out, make a statement, or just crack a smile when it relates to the post.
I'm leaning more towards customized photos and was looking for other services.
Of course, there are a lot of graphic services to choose from out there.
For a latest post regarding mobile marketing, I was looking for an image to spark a reaction of shock or panic for holiday shopping. You know...the holidays are approaching. THAT kind of panic.
So I decided to look at FotoJet and see if I could create something for my blog post.
The FotoJet.com services are broken into 3 categories: Design, Collage, or Photo.
My particular needs required the Design part since I didn't want a collage or edit a photo. ;-)
Design
In the design section, they have a familiar look and feel to other graphic services. The design section is broken into the following projects:
Marketing - Poster, Flyer, Logo, Business Card, Facebook Ad, Leaderboard (for ads)
Social Media Header - YouTube Channel Art, Facebook Cover, Google+ Cover, YouTube Thumbnail, Twitter Header, Tumblr Banner, Email Header
Social Media Post - Facebook Post, Instagram Post, PInterest Graphic
Event - Invitation, Card
Misc - Magazine Cover
After looking through the list, I didn't find anything similar to a blog image project, so I decided to go with a custom image of 640x400 in the top-right corner.
Once I had my white digital canvas, I thought I would look for a stock image.
I was shocked!
FotoJet.com has a 93,000 clip art library and a 580,000 stock images library.
After selecting my stock image, the controls to place, resize, crop, and add effects was very intuitive and complete.
For editing and effects, they include:
Rotate (left,right) and Flip (horizontal, vertical)
Layer options (Move Back, Send to Back, move forward, Bring Forward)
Crop
Duplicate
Delete
Preset image filters (or you could customize your own filter using Opacity, Exposure, Brightness, Contrast, Saturation, and Hue)
To make my text stand out more, I lowered the opacity of the image.
When I wanted to text to the image, it was easy as click "Text," add the text I wanted, and start enhancing the text using the text context dialog.
FotoJet.com had a healthy collection of font styles with categories such as Serif, Sans Serif, Display, and Handwriting. The general text of styles, color, and sizes are included along with the standard options of bold, italic, underline, and alignment.
Under the effects section, they had opacity, glow, and outline which I used with a subtle gray outline on the text.
However, I wanted to emphasize my guest blogger had an infographic and wanted to draw attention to it. I was looking for a corner image like a folded-page corner or small ribbon with a red color.
As I said, they have a lot of images in their Clip Art section so I dove in looking for a corner ribbon.
Under Embellishments > Sale Label, I found a "discount" image, but I couldn't change the text. Immediately above it in the Clip section, I found an alternative which is the corner piece I settled on in the image.
To finish off the image, I decided to add a small watermark in the bottom-right corner. This was easy enough as adding text and changing the opacity of the text.
When I wanted to save my image, there was a minor difference with how they "save" images. You can download your image and go on your way.
However, if you download the project, it won't save it on their server. You receive a .JET file downloaded to your device as a project file.
When you want to open the project at a later time, you can go to the Design page, click Load Project, select your local file, it uploads your file, and opens your project where you left off.
The final image is represented in the guest blog post called Mobile Marketing for the Holidays [Infographic].
Collage
For the Collage projects, they were segmented into the following categories:
Classic Collage - Photo Grid, Classic
Creative - Modern, Art, 3D, Creative, Poster
Misc - Photo Card, Comic, Fun Photo, Frame
Since I didn't have anything eventful occurring in the next couple of months, I decided to go with Fun Photo.
The primary difference between Design and Collage was a Templates category added on the left. These projects give you the ability to add your image to a canned project.
I sifted through the templates and found a good one to try out: Pirates!
Once I found a "good" image, I uploaded and started moving the image around to make it fit into the image. It was difficult, but I figured it out after cropping it. As a guideline, when adding your face to a photo, make sure you only have your face showing. This includes no hair or ears. ;-)
The interface for the Collage were similar to Design projects, but additional effects were included to give collage images more of a "pop."
Here's the result: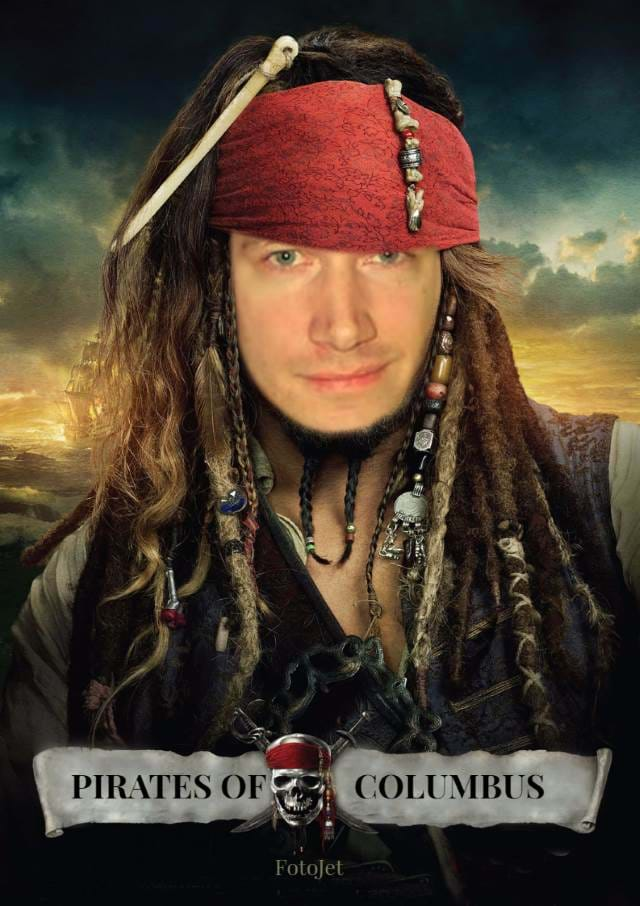 Once I decided to save the image, the saving of the image or project was the same as the design process: Download the image or, if you had premium, download the project.
Photo
Once I had my pirate photo, I decided to touch it up a bit.
The Photo section is quite elaborate and has extensive effects as well. Since this is a photo area, it's almost required.
The Photo effects include an Edit (Basic and Advanced), Effects, Overlay, and Frame options.
Edit - (Basic) Crop, Resize, Rotate, Exposure, and Color; (Advanced, which is a premium option) Sharpen, Dehaze, Vignette, Noise, Focus, Color Splash, and Selective Filter.
Effects - Featured, Black and White, Sepia, Vintage, Chromatic, Lomo, Old Photo, and Scene.
Overlay - Bokeh, Light Trail, Cute, Montage, Space, Burst, Paper, Fabric, Paint, Grunge, and Metal.
Frame - Border, Shadow, Classic, Polaroid, Edge, Modern, Film, Grunge
It's definitely a large list to go through, but I finally settled on a Sepia Effect.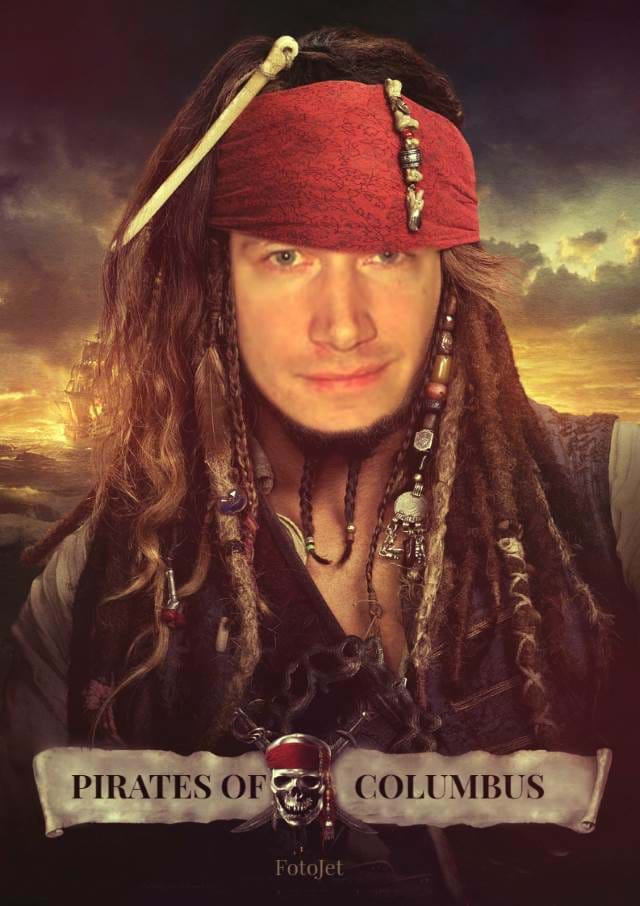 I think it turned out ok (Ahem...ok, I'll stick to development) ;-)
Overall Impressions
From a new developer/blogger looking to stretch his graphical "wings," FotoJet.com does a great job of bringing all of your graphic needs into one online IDE.
This type of workflow seemed like a natural progression as I was building a project. Once I finished one step, I would move to the next to continue my editing/post process. Of course, everyone would finally end up in the Photo section to let your ideas flow or get creative with your designs.
One visual I thought was a great touch was a crown next to each feature. The crown is visible across all areas (Design, Collage, and Photo) and indicates premium features. Most users want know what to expect if they sign up for a premium account.
As you move through your work of art, you can use the Compare (B/A) view. This allows you to click-and-hold the left mouse button to see what it originally looked like and let go of the mouse to see what it looks like now. I thought this was very intuitive.
I was very impressed with the Cut, Copy, and Paste functionality along with the Ctrl-Z for undo purposes, but had problems with directional keys when editing text like (Home, End, Ctrl-Left for a previous work, or Ctrl-Right for next word).
Another feature I was impressed with was the amount of Clip Art and various knick-knacks they accumulated to include in your projects.
Conclusion
Overall, I like the different aspects of FotoJet.com and how you can accomplish a number of projects in one graphic "IDE."
Moving from one environment to another with your project is a good workflow. You could create your image in Design or the Collage area and move on to Photo to touch-up and finalize your photo.
The amount of features in FotoJet.com continue to remain competitive with other graphical tools on the web. They provide a solid set of features to make your images spring to life.
Are you using FotoJet.com? Do you like their IDE? Post your comments below and let's discuss.