My Weekend with Windows 10 (with 5 Tips to Avoid Disaster)
A week ago on a Saturday morning, I decided to take the plunge and install Windows 10. Here is what happened with five tips on how to avoid mistakes when upgrading to Windows 10.
Last Updated: September 21st, 2015 • HowTo •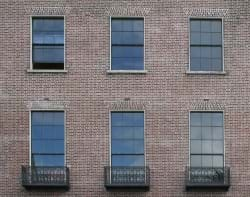 With Windows out now in full-swing and downloading onto tons of computers in the field (or so I've heard), it's no surprise that after Windows 8 and 8.1 that most people are skeptical about installing Windows 10.
After a crisis on Friday and assuming things would slow down for the weekend, I was debating whether to upgrade to Windows 10 this weekend.
And so, with a moment of weakness on Saturday morning (September 12, 2015) and a constant, annoying icon in the system tray staring at me, I decided to accept the download from Microsoft and start upgrading from Windows 7 to Windows 10.
I thought I would give everyone an account of what actually happened with my upgrade.
It all started Saturday morning.
8:24a - Started the 2.6GB download.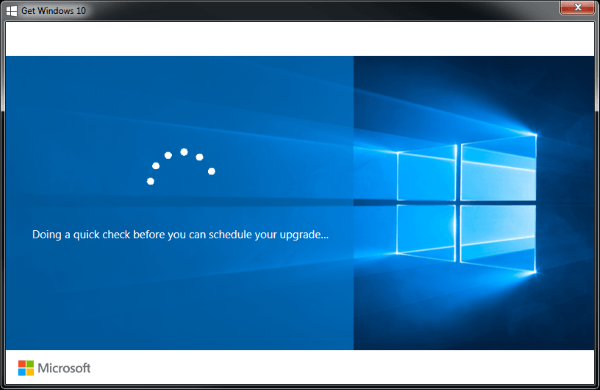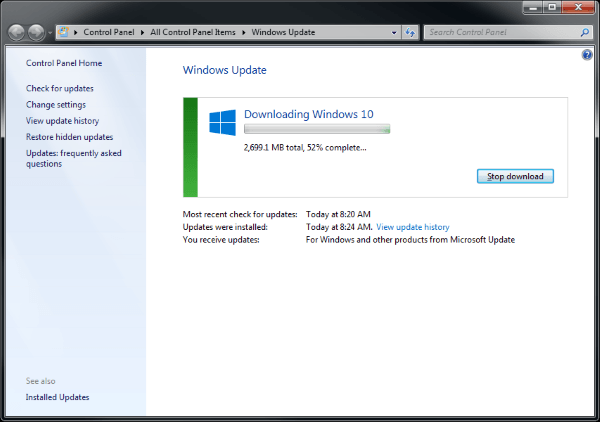 8:54a - It finished downloading. I was then notified that it was installing the downloaded files. 20 minutes into it, I thought the installing process...stalled.
9:42a - The progress bar finally moved to the halfway point.
10:05a - Windows finally finished the updates and I had the first interaction in the form of an acceptance agreement.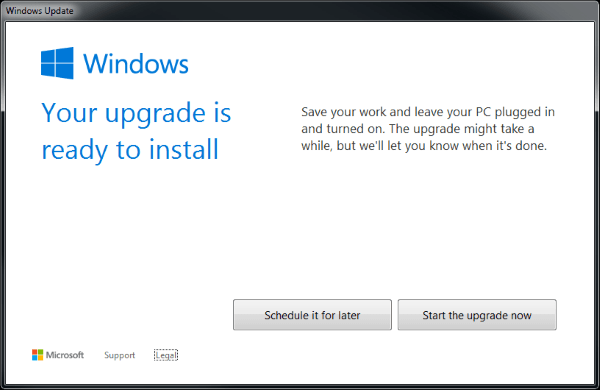 10:08a - After I clicked finish, it asked me to restart. After Windows shut down, I received the "blue screen of updating" telling me it started "configuring Windows 10 update."
10:29a - The update finished and rebooted.
10:30a - After rebooting, a progress circle was presented to me telling me that it would be rebooting a couple of times.
12:12p - After two reboots, my upgrade was finished.
Four hours later, I had a Windows 10 login screen. Everything seemed to upgrade pretty well.
But I spoke too soon.
After Installation
I guess I should mention my setup before continuing on.
I have a Dell Inspiron 14z laptop with a Kensington Universal Docking Station
. I have two monitors: one is a VGA/DVI-D connection and the other is an older monitor with a VGA-only connection. The docking station only had a DVI-D and HDMI connection.
I had a DVI-to-VGA adapter for the older monitor while using a Diamond USB External Video Display Adapter (BVU195)
. This Diamond adapter was too old for Windows 10. I kept receiving the newest blue screens of death which made me aware that I had KMODE_EXCEPTION_NOT_HANDLED and BAD_POOL_HEADER issues.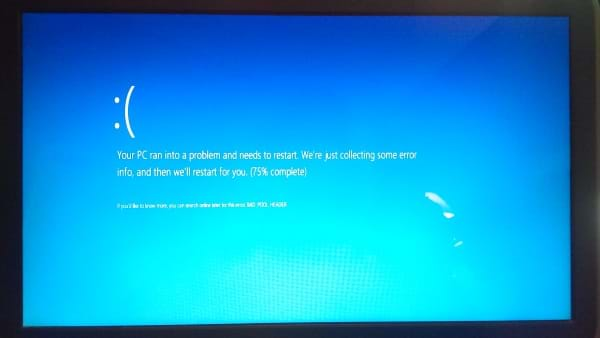 Not cool.
No Computer For Five Days
I was trying to take care of sick family members, tried to recover my PC from Windows hell, was so busy that I missed a couple days of posts, and found out an exceptional resource at work helping us out with a project who was a key SME was leaving the company.
<strong><sarcasm>It was a great weekend.</sarcasm></strong>
Arggh! Sick Family Member, Laptop Not Working, Core Member leaving team, Lack of Sleep, and Company Web Service Deployment! #hellaciousweek

— Jonathan Danylko (@jdanylko) September 17, 2015
Back to my computer.
It got to the point where if I used my computer for more than 15 minutes, it would "blue-screen" on me and reboot my computer.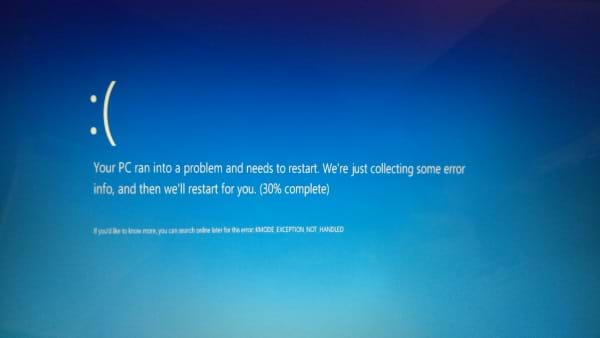 So I got to thinking about my computer setup before I upgraded to Windows 10.
My laptop is three years old and not once has it been wiped and installed with a fresh copy of Windows.
Windows version 7 to version 10 is quite a jump, though. Well, no time like the present.
After deciding I shouldn't wait another minute screwing with drivers, I started the process of backing up my data and performed a clean install of Windows 10. Microsoft calls it "performing a reset on your PC."
Why did I do this? Three reasons:
I had old drivers for the Diamond Adapter on a Windows 7 Ultimate machine. I guessed they wouldn't play well with Windows 10.
I had a LOT of drivers installed from older gadgets evaluated and tested and I didn't feel like playing "hide [driver] and go seek."
As mentioned above, my laptop is three years old and needed a proper cleaning anyway.
I decided that resetting the PC was the best choice.
A Happy Ending (with advice)
Once I backed up my data on my Seagate FreeAgent GoFlex 500GB
external USB hard drive, I started installing a fresh copy of Windows 10.
After everything was done, I saw the familiar Windows 10 login screen.
On Wednesday of last week, I was 80% up-to-date on installing everything back to it's original state. My development environment is partially built while my video tools were not installed (I need my Sony Vegas Pro!).
If you are thinking about upgrading to Windows 10, here are some tips when upgrading:
Backup. Your. Data.

I can't emphasize this enough. If you are upgrading your operating system, by all means, backup your data on your machine. Use an external hard drive (like the Seagate hard drive mentioned above) or multiple cloud services (like Microsoft OneDrive, DropBox, or Google Drive) if necessary.


Give a true and honest assessment of your machine.

If you have an machine with older devices and drivers, I would definitely recommend the full upgrade as opposed to adding another layer of Windows "goodness" on top of your existing Windows 7 installation. If you've encountered errors with your existing machine already, perform a "reset" on your computer, but please follow tip #1 before performing the reset.


Allocate Installation Time.

While it is tempting to click the install button and walk away, I would rather be there when something "blew up" so I know what to fix or adjust. Sure, there were periods of time where I went downstairs to grab a drink or sandwich while I was waiting for movement on the screen, but I'm talking about leaving the computer overnight.

If you leave the computer overnight, it may go into "sleep mode" and stop the installation until you turn the computer back on.

Set aside a good chunk of time to make sure nothing happens with your upgrade.


Microsoft or Manufacturer?

Five years ago, there were some developers who were on the fence as to whether to use Microsoft drivers for a device or go with the manufacturer's drivers for the device.

What's the diffference? (Let me play devil's advocate here).

Microsoft drivers: They test a lot of driver configurations at Microsoft and their drivers wrap the manufacturer's drivers while easily integrating into a Windows operating system making them more reliable and less prone to "blue screen of deaths."

Manufacturer drivers: Who would know their device better than the manufacturer? I've seen more manufacturing companies provide their own versions of drivers faster than Microsoft.

If you have an NVidia graphics card, would you trust Microsoft to install the right drivers for it or would you go to NVidia's website and download their latest drivers for Windows 10?

Bottom line: Download the drivers you have questions about from your computer's manufacturer (video, network, etc.) just in case you don't have access to the Internet. That way, you won't need the Internet to install the latest drivers if the Windows drivers don't work.


Keep Your Manufacturer Disks Handy.

While Microsoft can detect whether you have a network card installed or not, they may not find a compatible network driver for your computer. Blow the dust off of your original package and throw that DVD into the drive to grab the original drivers for your device.

It will get you past a certain installation point in Windows and, almost certainly, allow you to update them later when you've logged into Windows 10.
These were notes I took while waiting for my Windows 10 installation to complete.
I hope they help you in your upgrade process.
Conclusion
Installing Windows 10 can be intimidating, but following the tips above can make the upgrade process a lot smoother than expected.
Since I've upgraded my machine (using the "reset" option), I am actually happy I took the plunge.
But how hard is it to install Windows 10? Let me tell you a quick story...
As I was growing up, my parents never liked technology, but my father was always willing to try. On Friday night, my father called and said he was trying to get onto the Internet.
I asked him what he did differently tonight?
"I installed Windows 10"
I almost fell out of my chair.
"You installed this yourself?"
"Yep, sure did"
As I look back on that night, his computer was more of a "stock" model than a customized programmer's machine (he only uses it for the basics like surfing and email). Based on tip #2, he had no real device driver threats when upgrading, so his upgrade went smooth.
So if my dad can upgrade to Windows 10, I'm pretty sure you could too.
Did you upgrade without any problems? Post your comments below and start a discussion about Windows 10.