eBook Readers: THE Ultimate Reference Tool
I've never wanted an electronic book reader until I realized the potential of having one. Here's why I bought one.
Last Updated: March 5th, 2010 • Gadgets •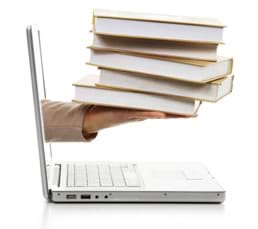 Lately, I've been picking on the nook through my Programming Thought Of The Day tweets on Twitter. There's a reason.
I've been looking over the ebook reader market since last September and was extremely impressed with the nook when it was released. Unfortunately, the demand for the nook was extremely high and I had to wait.
Bummer. Anyways...
Last September, I was researching the eBook Reader market and after receiving some gift cards, I started paying attention to how the market was reacting to touch-screen versus eInk Readers. Then, around Christmas, I seriously started examining and evaluating each eReader.
Well, a couple of weeks ago, I bought the Barnes & Noble nook for $59.
After researching the ebook readers, I realized that the nook was definitely my first choice. Although having the nook win best gadget of 2009 and Time recognizing the nook as one of the top gadgets of 2009 helped a little bit as well.
Why an eBook Reader?
Believe me! I was the first person to say "eReaders? HA! Why would I replace my physical books for an electronic device?" I'm old fashioned and prefer a good book in my hand any day. However, I kept coming back to only one reason to own an eReader.
My primary reason to own an ebook reader was to consolidate all of my computer reference material into one place and carry it with me...comfortably.
Everything else after that was gravy. The bells and whistles are nice to have, but not a necessity for my needs.
Why the nook?
There were a couple of reasons I went with the nook.
3G vs. WiFi
I don't need 3G. WiFi is perfectly fine for my needs. Sometimes I don't WANT to be connected. I understand you can turn the WiFi/3G off, but I prefer not to pay 3G rates.

Virtual Keyboard vs. "push button" keyboard
I guess I'm becoming used to a virtual keyboard on my phone and other devices as opposed to the Kindle that has the "push button" keyboard. I just wanted the keyboard out of the way to maximize my screen space for viewing my books.

Pricing
Sony has always sold their items at a higher price. I understand the Sony brand is attached to the price, but I didn't want to spend a ton of money for a Sony ebook reader. Heck, a netbook is priced the same as their ebook readers. The Amazon's Kindle seems to be the only competitor for the nook.

(As I mentioned before, I had $200 in Barnes & Noble gift cards, but I wasn't going to let this cloud my judgement in buying an ebook reader).
While being a computer consultant, you start to realize that you need to reference a book or two from home and you don't have it. With an eReader, you have all of your books (and additional material) with you right at your side.
I have to admit that It's extremely easy to carry around an eReader instead of looking like a college student carrying a large library of books with you everywhere.

The one downside is that not all computer books/manuals are eBooks yet so I still need to lug around a select few "piledrivers."
In a future post, I'll review the nook and describe all of it's features and even provide a way to "trick out" your nook.
Stay tuned!
Do you have a nook yet? or a different type of eReader? Post your comments below.