Beginner's Guide To RSS
Find out how RSS can deliver content directly to your desktop.
Written by Jonathan "JD" Danylko • Last Updated: April 11th, 2006 • Develop •
Most everyone in the technology industry has heard about RSS feeds, but according to a recent survey, the general public seems to be having a little bit of trouble understanding what RSS is and how to use it. This post is dedicated to those individuals who want to know a little bit more about what RSS has to offer.
What is RSS?
According to the Wiki, RSS is defined as follows:
RSS is a family of web feed formats, specified in XML and used for Web syndication. RSS is used by news websites, weblogs, and podcasting. The abbreviation is variously used to refer to the following standards:

Rich Site Summary (RSS 0.91)
RDF Site Summary (RSS 0.9-1.0)
Really Simple Syndication (RSS 2.0)
I know some of you are thinking, "feed format for what?" Look at it this way: It's another way of distributing news to users in a lightweight text file.
Here's a real world example. Let's say that you don't have anything to do (Hey, it could happen) and you turn on the TV and wanted to find out what was happening in the world. So you change the channel to CNN and start watching the news ticker tape at the bottom to find out what's going on.
RSS feeds work exactly the same way. The only difference is that EVERY channel (translation: web sites) has a news ticker tape running along the bottom of the screen. Now, you really don't see a ticker tape running along the bottom, but most web sites have them and they are constantly being updated behind the scenes.
Whatever your favorite web site is, chances are, they have an RSS feed. If they don't, they probably don't have any news worth reading about. :-)
Spotting an RSS feed
Every web site I've visited lately has an RSS/XML feed icon at the bottom of their site or on the bottom of a left or right column. The feed icon could look like this

, this

, or this

. Funny, though, how most of the RSS indicators are at the bottom of web pages and that coincides with the news ticker tapes on the bottom of news channels. Ehh...I digress.
Don't be alarmed if you click on an RSS link and you receive this in your browser: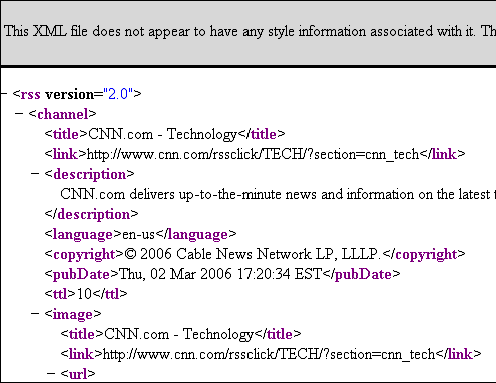 Figure 1 - A raw RSS/XML Feed
This is the XML file that is transferred to you when you request the RSS feed. I will discuss below how to interpret this into a readable format.
Another note: If you can't find your web site's RSS feed, one place I would recommend looking is Syndic8.com. Syndic8.com is a web site that contains a big...no, not big, HUMONGUS list of RSS feeds on the Internet. If you can't find an RSS feed pertaining to your particular hobby or industry using this RSS feed search engine, I would be amazed.
Managing your RSS feeds
You've visited your favorite AJAX, cooking, or woodworking web site and everything in between and you notice that you are accumulating a LOT of RSS feeds. How do I manage all of them? That's where the software (or a